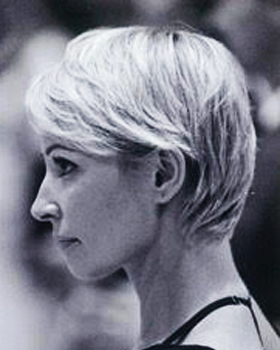 First time at the Summer Dance Camp
Oksana Nikiforova started to dance as a child in her home town Tyumen in Siberia. Until the age of 16 she was most active in 10 Dance and then devoted her career to Latin American dancing. Using her unstoppable passion and great talent she became a world class dancer recognized widely by the dancing community. Most notably she is 3-time Latin World Champion and 3-time Blackpool Latin-American Champion.
Oksana made her breakthrough to the top when she was only 18 as a partner to Paul Killick. Together they won Blackpool Professional Rising Star Latin in 1994 and made the finals the next year. In 2000 Oksana became a partner with Franco Formica and danced with him for 5 years achieving long list of titles.
After closing her great career as an active dancer, she became a dancing coach and is now passing her knowledge to young couples and helping them achieve the perfection they need to become champions. She is also dancing adjudicator where she makes great use of her sharp eye, profound dancing knowledge and extreme attention to details.